Illinois Liquor Control Commission (ILCC) BASSET Certification
What is Illinois Liquor Control Commission (ILCC) BASSET Certification?
What is BASSET, you ask? It stands for "Beverage Alcohol Sellers and Servers Education and Training," and it's the Illinois state-approved course that helps handlers of alcoholic beverages learn the responsibilities and dangers involved with their jobs. The purpose of a BASSET course is to ensure that everyone is equipped with the proper tools and skills they will need in order to perform their jobs safely, and prevent dangerous mistakes from occurring – such as serving to a minor or providing alcohol to a habitual or intoxicated customer. Additionally, a BASSET course protects the establishment itself from any liability, should a mistake or hazardous situation happen.
This certification is required for anyone that sells, serves or mixes alcohol in the state of Illinois. This includes anyone that manages or oversees anyone that sells, serves or mixes alcohol.
This training is to help promote legal and responsible sales and service of alcoholic beverages.
This course and website were designed with multiple devices in mind. All course content is in HTML5 which means it will work on iPad-iPhone-Android-Kindle Fire-Desktop and Mac Devices. You do not need Adobe Flash Player, and there is no need to download any other browser to take our course. We have tested our course in Firefox, Edge, Chrome, and Safari browser.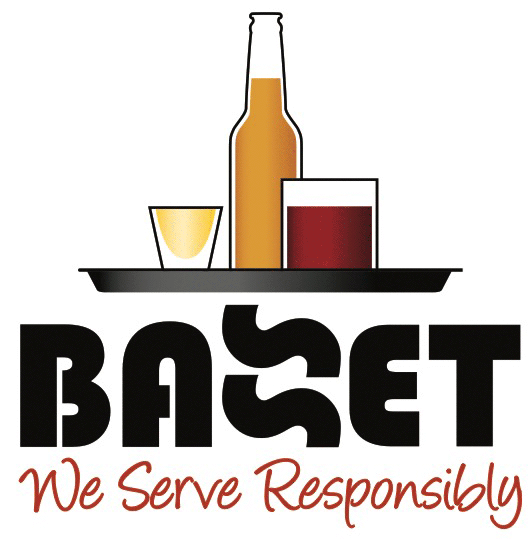 Course Features and Outline
Our online training course is self-paced but contains two hours of interactive course content with full audio narration and engaging real-world scenarios. Our training course is designed to works on all devices, including smartphones, tablets, laptops, and PCs. Once you create an account, you can log in from any computer or mobile device and train anytime, anywhere. You have 30 days from purchase to complete this course. You can log in and out of your training account, and your place is saved with our learning management system. After completing this BASSET course and passing the 20 multiple choice question final exam, you will be able to print your temporary BASSET certification from your printer or save it to your device.
Aplusservereducation.com submits the BASSET completion records to the Illinois Liquor Control Commission (ILCC) every other day.
The ILCC will issue your official BASSET card and mail it to you at the address you provided during registration. Your Illinois BASSET certification is valid for three years from the date of course completion. The BASSET certification card must be carried by the person whose name appears on the card and is the person selling and/or serving the alcoholic beverage.
The training material is broken down into five units. These units contain information about alcohol the drug, how to check ID, intervention techniques, dram shop laws, and how to recognize signs of intoxication.
Why Choose Us
Service You Can Count On
Your Aplusservereducation.com experience wouldn't be complete without a team of supporters on your side. Take advantage of our Customer Support whenever you need it, and our team of dedicated representatives will answer your questions and guide you through any process. It's as easy as can be!
The best way for any business owner to prevent this scenario from occurring is to require all managers and employees to complete our state-approved BASSET course. Our course instructs sellers and servers in all of the Illinois alcohol regulations, including Happy Hour laws. By putting together a well–informed staff, business owners can ensure that all laws are followed to the detail, while also keeping staff and customers safe during their time on the premises.
We're ILCC-Approved
You can complete the course in 2 hours, and it's the fastest way to get your ILCC-approved alcohol permit online. Save time with our Fast and Easy online training. Our online course also includes a full narration to help you learn as you go. Need to look up your BASSET Permit with the ILCC Click here.
Overview of our training
Our program gives people selling and serving alcoholic beverages an overview of alcohol sales, regulations, and techniques for recognizing a minor. Alcohol vendors will better understand how selling alcohol responsibly reduces trouble and improves safety.
The best way for servers and bartenders to avoid facing criminal charges is to take the BASSET alcohol training course. This course provides employees with a thorough and detailed education on how to identify underage customers and how to spot fake IDs whenever they may come across one. It's crucial that the employee be able to determine when a minor is attempting to sneak by—failure to do so could cost them their jobs and could even result in the establishment losing its liquor license. That's why many seller/server establishments will require this training before an employee ever serves alcohol on the job. The state of Illinois now requires that anyone that serves, sells or mixes alcohol in the state must complete an ILCC BASSET approved training course.
It's the Law!
In the state of Illinois, establishments are prohibited from doing any of the following during their Happy Hour:
Serving more than 2 drinks to a single person at a time
Offering drinks at a reduced price (i.e., "2 for 1" specials, or "$1 beers from 4 – 7 p.m.")
Create "unlimited" drink specials during any period of time
Increase the amount of liquor provided in any cocktail
Host any game or contest of any kind in which a prize is given for the consumption of alcohol
It should be noted, however, that any discounted prices on food or products must be offered at that price for the entire day, not just during a 2 to 3-hour window. Therefore, the concept of "Happy Hour" is relegated to just a small part of an entire day's special and isn't really a Happy Hour at all.
Why Are Servers Required To Take An Alcohol Education Class?
Licensees operating establishments where alcoholic beverages are served and consumed on the premises must ensure that each Server of Alcohol employed on the premises is either already certified or completes an Approved Server Training Program within sixty (60) days of the date the server begins employment at the establishment and that each Server of Alcohol maintains that certification throughout his or her employment as a server of alcohol. Club Licensees are required to have no less than one Server of Alcohol, whether employed or a volunteer, on the premises at all times to supervise the service of alcohol to members and the guests of members. Club Licensees are required to ensure that all supervising Servers of Alcohol have completed an Approved Server Training Program before supervising the service of alcohol to members and the guests of members.
BASSET Keeps You Safe
Our expert instructors have put together a top-quality course that will engage you and make your experience entertaining as well as educational. The chapters are short and manageable for faster certification; and the course uses state-approved material, certified by the Illinois ILCC BASSET program.
To Become BASSET Certified
Complete the required BASSET training course.
A+ Server Education will issues you a proof of completion certificate after you pass the exam.
A+ Server Education sends a roster of students who have passed the exam to the Illinois Liquor Control Commission (ILCC).
The Commission then issues BASSET cards to participants who successfully complete the course.
Renew your BASSET card 3 years from the date of issuance.
Paying For Your Employees is Easy with Pre-Paid Bulk Codes
Need to pay for your employees to get their BASSET certification online? It's easy with our bulk code system. When it comes time for one of your employees to get BASSET certified, just give them one of the codes and they'll enter it on the payment page when they enroll. It's that easy. Why buy in bulk? The more you buy the more you save. Discounts on bulk codes start at 10 or more codes.
BASSET Training Required for Alcohol "To Go" and Delivery
To keep businesses running and staff employed Public Act 101-0631 was passed to allow on-premise establishments (bars and restaurants), to sell cocktails "Togo", for takeout and delivery. Along with this new mandate, Beverage Alcohol Sellers and Servers Education and Training(BASSET) is required for the curbside and delivery sales to prevent illegal sales of alcohol either to a minor or intoxicated person. Under this law, third party delivery companies are prohibited to deliver cocktails or mixed drinks. By including BASSET training in this act, BASSET certified employees must utilize the techniques in training to ensure proper carding techniques are utilized, handle refusal situations when necessary, and avoid third party sales and liability.
The logo's above are used with permision of the franchises that we have provided services to and belong to those companies.
All Rights are Reserved.